iPad Product Reviews
The products and apps discussed here are based on my personal experiences and are not part of a paid endorsement.
Pogo Connect Pressure Sensitive Stylus
December 16, 2012
I just received the Pogo Connect as an early Christmas present from my wonderful wife. She rocks! I haven't had it long enough to write a proper review. This is what I can say at this point. The instructions over simplify the connection process. Out of the box I was unable to get it to work. After making sure my OS was updated and the apps that are compatible with the Connect are updated, it still didn't work. I discovered that the Paper app and Sketchbook Pro have settings that have to be turned on for the Connect Stylus. This worked for Sketchbook Pro, I had to completely close out of Paper and then enable the setting for it to work in the Paper App. So I'm finally in business. If you're considering the Pogo Connect, keep in mind that it only works on the iPad third generation or greater and look to see if you favorite app is on the list of compatible apps. I'll let you know what I think of the Pogo Connect after I make some nice artwork with it.
---
Paper App by FiftyThree

November 02, 2012
Paper has added a color mixer to the app. This upgrade is another In-App purchase of $1.99, but it does bring it closer to the functionality of many other drawing apps.
April 12, 2012
The Paper app by Fifty Three is more than just a drawing app. It's a sketchbook app. The ability to have multiple sketchbooks with custom covers mean I can organize my notes and sketches much like I do with my traditional sketchbooks. The user interface is one of the joys of using paper. Flipping through your sketchbook feels intuitive, a simple tap and you can now draw and write on the page. Pinch the page takes you back into the book, and pinch again to see the rest of your books. Undo is done by a multi-touch counter clockwise motion. Very intuitive and smart looking interface.
You must purchase the individual writing tools to have them all available. At $1.99 each this makes Paper more expensive than many other drawing apps. The number of colors are limited. Paper is a nice app, but there are other drawing apps I would recommend first.
---
Acase Capacative Stylus

March 18, 2011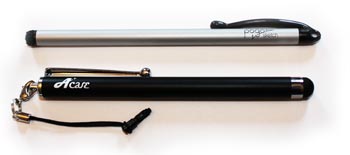 After wasting money on the Universal Touch Screen Stylus (reviewed at the bottom), I wasn't eager to purchase a stylus that used high density capacitive foam. The Acase Stylus became available from Amazon.com for eleven dollars and change. Nearly five dollars cheaper then the Pogo Stick stylus from Tenone Design. And the reviews on Amazon said it was nearly identical to the BoxWave stylus which was recommended to me (thanks Jim). Based on the positive reviews I made the purchase.
This stylus is certainly worth the price. The larger .33 inches in diameter barrel makes it easier to hold then the quarter inch diameter pogo stick. The metal clip feel much more secure. And the high density foam tip feels more precise. The foam and fabric tip of the pogo stick distorts with use. This leaves you wondering where the tip of the pogo stick will actually make contact. The Acase stylus has a rounded tip which precisely contacts the screen.
This stylus comes with a tether that connects to a dongle that plugs into the headphone jack. Many reviewers on the Amazon site hated the tether. The chief complaint being that the stylus dangles against an unprotected iPad. There is a micro carbiner that clips the stylus to the tether. This makes the tether completely optional. I have misplaced my stylus several times, so I like the tether. The dangling stylus doesn't seem to be a problem with my Dodocase. I think this is the best stylus for the price and I recommend it.
---
ArtStudio for iPad

September 30, 2010
I download ArtStudio for iPad by Lucky Clan a while ago. However I hadn't worked with it enough to give it a fair assessment. It's easy to give a biased review based on my familiarity with the first drawing app that I used. Now that I am more comfortable with ArtStudio I can give a more objective viewpoint.
I downloaded ArtStudio over Brushes for one reason. At the time ArtStudio was the only drawing app that supported a resolution of 1024x1024. The other features were comparable. They both supported layers, different drawing tools, multiple undos and file export. Brushes has a nice feature that records as you paint which would be fun to play back and for self promotion. Now I have not used Brushes so my comparisons will have to stop here.
Compared to Autodesk's Sketchbook Pro for iPad, ArtStudio has a bit of a clunky interface. That is to say that it could have a better aesthetic and cleaner interface. Despite that, it functions well. Painting at the top of the screen gets in the way of the sliders that control brush size and opacity. There were a few times that I moved the sliders when I meant to paint and vice versa. This is easily fixed by clicking the arrow that removes the controls. The maximum brush size isn't large enough for me. I use a large brush to create background gradients. The smaller brushes and the blending tool in ArtStudio make this more effort, but you get a more painterly result. Sketchbook Pro offers more brush options. I have heard someone say it was almost overwhelming. ArtStudio has more of a basic set. The pencil, paint brush,wet paintbrush, paint tube, scatter brush, eraser, smudge tool, paint bucket tool. ArtStudio does have some additional tools that Sketchbook Pro doesn't have. A text tool is nice and a dodge and burn tool is also a nice touch. For those non-photographers, dodge and burn allows you to darken and lighten areas. ArtStudio gives you the ability to create your own brushes up to 128x128 pixels in size.
ArtStudio also has a set of filters that are helpful. The first three give you the ability to adjust color or contrast of a layer. Other filters include blur, posterize, colorize, sepia, find edges, emboss, black and white, inverse colors and sharpen. The color adjustments, blur and sharpen are useful for my illustrative style.
A good app-maker continually improves their product. In the short time I have had ArtStudio, there have been at least two major updates. ArtStudio may have a few shortcoming, they are making it better. Overall I like ArtStudio for the iPad and recommend it.
---
The Dodocase

August 2, 2010
I like the Dodocase. It's a nicely crafted iPad accessory that is made to simulate the look and feel of a "Moleskin" sketchbook. I feel the case has a good weight and form factor. However it's not without flaws. The iPad is secured into a machined bamboo frame by four foam pads. These pads compress over time and one side of my iPad rises out of the frame by 1/16 of an inch. I don't feel the iPad is very securely held in when I have the cover opened. However I don't hold my case at angles that would allow it to slip out when opened.
Dodocase has great customer service and continues to improve their product. They have sent out new and improved foam pads which should solve the problem. I received my new pads a few days ago. I haven't had a chance to install them.
If you want to support an American made, hand-crafted product, then I recommend the Dodocase. If your looking for a rugged solution then I would look elsewhere.
---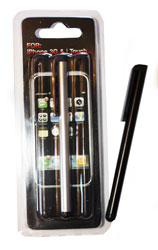 Universal Touch Screen Stylus

August 23, 2010
These stylus use a higher density capacitance foam that has a rubber-like texture. This rubberized tip is akin to drawing on glass with a eraser. The resistance between the rubber tip and my screen protector make for very jagged movements. And you really need to press down to get it to work. For those two reasons I cannot recommend this product.